We live in an amazing world where we are surrounded by technical wizardry and gadgetry. However, we also unfortunately live in a world where it doesn't hurt to be that bit more secure around the house. Burglary and theft are always going to be an issue but, thankfully, there's a range of gadgets that have been cooked up by innovators all around the world for the sole of purpose of waning off those theiving mitts.
Archerfish Solo
credit: myarcherfish.com
Archerfish is an award-winning, forward thinking intelligent video surveillance system (try to say that ten times really fast). The reason why Archerfish is known for being top of the game is because it deconstructs what it sees – analysing what is in front of it. The camera picks up on anomalies and 'odd occurrences' from its feed and sends them directly to you by phone or email. Archerfish is precise; so you won't be sent videos of your dog or cat running around the room.
Hidden Wall Safe
credit: thinkgeek.com
Apparently the average time that burglars spend in your house is around six minutes. During those six minutes the thieves would run your house up & down checking all the obvious places; jewellery chests, safes, cupboards, dressers etc. So, why not be a little more subtle with your cherished valuables? The hidden wall safe keeps you two steps ahead of the game.
Mini Mosquito
credit: mosquito-ni.com
Darn kids! Are you always a little bit on edge when a gang of hoodlums gathers in the telephone box opposite your house frequently to just lark about and such? Older people can sometimes feel a little uneasy with youths around, so this product is just the gadget for keeping wily thieving youngsters at bay; the 'Mini Mosquito'. The Mini Mosquito packs a high-pitched whistle which is at a frequency only teenagers can hear – alike dog whistle – driving them away, completely perplexed. Works up 10M away from placement.
Siren Padlock
credit: asseenontvguys.com
Sometimes security does come cheap! This special padlock, when tampered with, emits a ear splitting 110DB alarm for ten seconds – alerting everyone to the issue. The padlock is made from cast steel & shackle and is normally used on sheds, garages, bikes, gates etc. One noisy safeguard indeed!
Super Door Stop Alarm
credit: securitycameraking.com
Pretty much what it says on the tin – a door stop which is actually a super alarm. When a door is opened with the door stop wedged in, a 120DB alarm is emitted from the device – warning everyone in the vicinity whilst shocking the thief. On top of this, if the device is tampered with it will also trigger the alarm.
Fake TV
credit: faketv.com
Fake TV is a gadget which when used, emits a very similar kind of light to what a real television produces. So if you are leaving your house, you don't need to leave your TV on to create the impression that people are home to thieves – Fake TV does that for you. Fake TV simulates colour changes, fades, on screen motion, is small, has a built in sensor and timer – and on top of everything is completely energy conscious (uses as much energy as a nightlight).
Anti- Theft Lunch Bags
credit: walyou.com
Just as scary as theft in the home is theft in the office – to be more precise, in the fridge! Having your lunch stolen is sometimes devastating; all that time and effort that had gone into making your killer sandwiched is instantly wasted. There are always a couple of sneaky lunch thieves in everyone's office – and these bags send them running. For $10 you can buy zip lock bags which make the contents look as if there is mould growing on the inside. Ingenious.
Plug Mug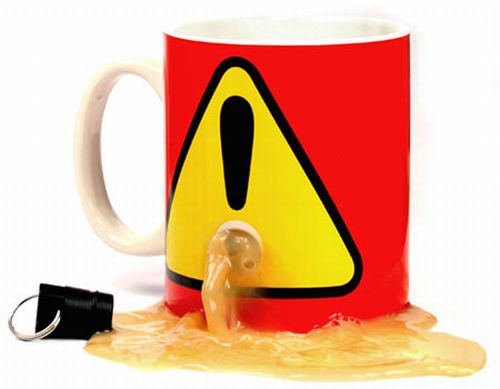 credit: walyou.com
Still on the same theme of theft in the work place, the 'plug mug' is a cup designed to stop people from using your mug when you are away. The owner of the plug will remove the plug when he leaves the workplace, leaving those sneaky workers to search elsewhere for their drinking vessel needs!
Paintball Gun Security Sentry
credit: HackedGadgets.com
Perhaps not the most ethically sound gadget, but if you're look at complete home protection – this could be the thing you need! Destroy trespassers who enter your property illegally with this intelligent gun turret that senses movement – firing a rapid amount of paintballs at any moving target.
Walkman iPod Case
credit: techfresh.net
In this day and age, crime can happen at home or even most commonly on the streets. Thieves look for small expensive items which are easy to steal; iPods, iPhones, smart phones etc. So, why don't you simply disguise your iPod as a Walkman? No thief in their right mind would even care about a Walkman, let alone want one weighing down their pocket (unless the thief is in fact a Hipster from Shoreditch)! Simply slam your iPod in the case and you're away.