There are some magnificent work environments dotted around the globe that should be the envy of businesses everywhere. These great places to work must make it very hard for employees to leave at the end of the day. Read on and get some ingenious ideas…
Googleplex
Google's San Francisco office slide – first ride in 2008 Video Credit
The New Google Slide Image Source
As might be expected, the Google HQ in Santa Clara County, California is an innovative high tech space. On top of the multi-stop winding slide running through the different levels, there are free laundry rooms, gyms, two swimming pools and no less than eighteen canteens serving varied cuisine. This is how to keep a workforce happy. The giant rubber ball seating even makes sitting fun. And is that a giant dinosaur skeleton in the grounds?
Facebook HQ
Facebook HQ Image Source
Despite being depicted as a cold and detached genius in The Social Network, Facebook CEO Mark Zuckerberg seems to care about his employees. The Facebook HQ in Palo Alto, California has canteens serving three meals a day, a coffee shop, an open pit BBQ, pizza band, salad bar and taco shack. It also has an incredible gym, which is just as well after all that food! This office sounds more like a campus, which makes sense given the company's origins.
What If? Innovation
What If? Meeting Bed Image Source
As a Pimlico, London based consultancy working with businesses and governments to improve their social innovation practices, it stands to reason What If? Innovation would have a giant reception and meeting hub in which to mingle, brainstorm and create. As a brilliant way to stimulate, recognise and reward employee efforts the ceiling is covered in praise for the whole workforce.
White Mountain Office
White Office Image Source
An ingenious office space 100 feet below Stockholm in what was once an anti-atomic shelter; the White Mountain Office was designed by Albert France Lanord Architects. This stunning blend of hard rock and sleek metallic structures looks more like the lair of a Bond villain than the HQ of internet provider Swedish ISP. This is the kind of work environment employees would rush to get to in the morning and certainly one to boast about!
Adams & Knight
Adams and Knight Cinema Image Source
The Connecticut based advertising firm Adams & Knight have a breathtaking work space with a cool 50s diner vibe and retro Americana decor. It even has a Jukebox! All the fixtures and fitting recall the American diner aesthetic, resembling an Edward Hopper painting. To unwind, employees can take in a show at the built in sixty seating cinema.
Fog Creek Software
Fog Creek Software Offices Image Source
Software development companies take note. Fog Creek Software in Manhattan has gained a great reputation for its office innovations. Believing in privacy, each office is enclosed and even the normal workstations are hidden away in angular alcoves. The layout is so well planned that every desk has a window view looking outside, which helps busy programmers rest their square eyes. A hang out area complete with pool table, plasma screen and games console provides a deserved rest area.
Red Bull HQ London
Red Bull HQ London, Slide Image Source
Designed by Jump Studios, the Red Bull London HQ has magnificent floating walkways, meeting rooms with a ping pong table at their heart, a drop dead gorgeous chill out lounge area with various forms of entertainment and, the piece de resistance, an immense slide to swoop employees into their meetings. Sounds like Disneyworld with desktops. It's an office interior sure to give employees wings.
Chambers of Commerce and Industry of Slovenia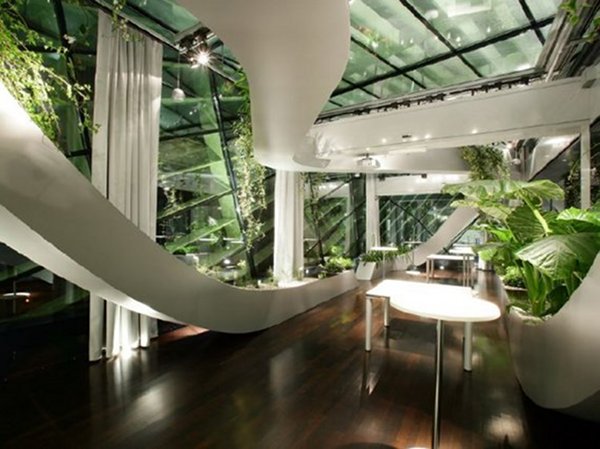 Chambers of Commerce and Industry of Slovenia Image Source
The simply stunning interior design within the Chamber of Commerce and Industry of Slovenia is a sleek almost space age environment of swooping curved walkways that is a joy to see let alone work in. It's hard to imagine the design not having an uplifting and inspiring effect on the employees. The beautiful plant life in the panoramic roof garden strikes a nice contrast to the contemporary design by Sada Vuga Architects.
Pixar HQ
What kind of office space inspires Disney animated classics like the Toy Story trilogy and The Incredibles? One that combines technical innovation with creative playfulness if course. Both abound in Pixar's Emeryville, California HQ. Cubicles have been replaced with garden sheds, games rooms are found around every corner and there's even a cereals room filled with breakfast treats that make the working day feel like a sleepover. And everything's free. Filled out an application form already?
MindLab
MindLab Image Source
Last, but certainly not least, MindLab is a social innovation unit working with business within the Denmark government. Designed by Bosch and Fjord of Denmark, the office interior is fully adaptable, allowing employees to manoeuvre fittings to suit their personal requirements. The open plan encourages free interaction, while the workplace has a special coating turning it into a giant whiteboard where fresh ideas can be doodled the moment they take shape.