Honeywell has been manufacturing home security systems for over 60 years. The bulk of their systems are sold to local dealers and alarm installers. As a homeowner, you're likely to purchase one of these systems at a high markup through your local alarm dealer, or need to sign a three-year alarm monitoring contract for $30-60/month to get a system installed.
However, some of Honeywell's systems are sold direct. For those of you considering purchasing one, we've looked into Honeywell's wireless security systems to give you a better idea of what you'd be getting.
"Wireless" Home Security?
Taking in all of Honeywell's security products can be pretty overwhelming – scrolling through this dealer's website, I counted twenty-five different security system types. Add all the different sensors, cameras, detectors, and control panels, and that's a whole lot of decisions to make. All these options might be great for a huge commercial property, like a student dorm or a factory, but for a homeowner, the process is often just confusing. It gets even more mixed-up when you take into account the names Honeywell uses for its products.
For example, the "Honeywell L300 Wireless Security System" isn't wireless in the sense that you might be thinking of – it requires a landline phone connection or an internet/VoIP connection. We've talked before about the dangers of phone line connections, and VoIP connections are unreliable, and can be taken out of commission by power outages, faulty signal conversion, and burglars with wire cutters.
Installing this "wireless security system" also involves a whole lot of wiring, as you can see in this figure from the installation manual: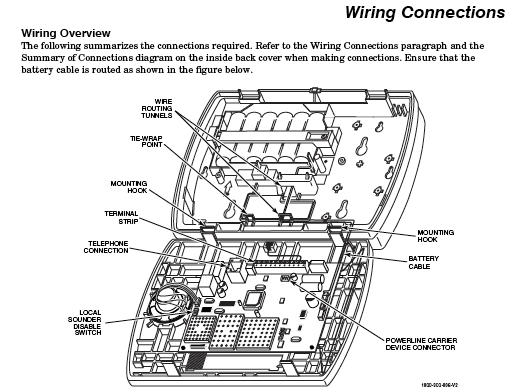 The basic "L300 Wireless Security System" has a list price of $415.00, while the truly cellular and wireless system, the "LYNX Touch L5100," costs nearly twice as much, at a list price of $740.00. If you don't pay close attention, you might think you're just getting a deal when you're actually getting the wrong system!
Prepare to Break the Bank . . .
Honeywell security systems might not be suitable for those who have a limited budget. The prices quoted above are only for bare bones system kits, which often don't include even close to everything you'll need to properly protect your home. For example, the LYNX Touch L1500 kit is list-priced at $740 and comes with only 6 components – the control panel, three small door or window contact sensors, one motion detector, and one alarm keyfob. Once you start taking the average family's convenience and safety needs into account, the add-on count – and the price – starts skyrocketing.
For example, experts recommend that you install the control panel far away from any home entrance, because otherwise an intruder may compromise it and stop the alarm. But if you do that, you can't use it to enable and disable the alarm – so you have to buy an extra keypad, which will set you back $88.99. Honeywell also instructs that "for proper intrusion coverage, sensors should be located at every possible point of entry to a home or commercial premises." If your home has more than one door and two windows, then those three contact sensors aren't going to cut it, and you'll have to lay down about $45 for each extra one. Want a glassbreak sensor for the picture window in your living room? That'll be another $91. All of this adds up quickly and will send you into quadruple-digits before you know it.
. . . And Break It Again Every Month
The whole point of having an alarm system is resting easy because you know the police have your back in the event of a break-in. Unfortunately, with a Honeywell security system, that peace of mind doesn't come cheap. Since Honeywell security systems are primarily sold through a dealer network, that's one more middleman who needs to get paid by someone – and that someone is going to be you, in the form of installation fees and markups. In most cases, you'll also have to sign up for a monitoring agreement. Different dealers offer different monitoring plans, but generally you're promising to pay anywhere from $30-$50 every month for 36 months (even dealers who offer a month-to-month option, such as GeoArm, up the monthly charge and tack on a signup fee).
200 Page Manual: Not exactly our idea of a DIY system
Most people these days prefer going the DIY route and installing their own burglar alarms due to a significant cost reduction. However, if you go down this road with an Honeywell system you're bound to hit a few detours. For example, here's an Amazon review from a commercial airplane designer and mechanic who had a difficult time installing his "wireless" Honeywell security system:
"If you plan to install this kit yourself, you must know that the kit provided is not complete. You have to purchase electrical wires to connect your transformer to your LynxR-2 control panel and telephone wires (26 gauge minimum) for phone connection . . . For mounting the sensors (entry and motion), they assume that you know how to mount them already . . . The kits come with 3 installation and user manuals, but they are very difficult to follow. I design and repair commercial airplanes for a living, and I deal with all kinds of installation and troubleshooting manuals, but these manuals are far more difficult to understand. I tried the steps over and over again to get it to work. I still have not gotten all the bugs out yet."
Beware: If you decide to tackle a Honeywell installation anyway, keep in mind that Honeywell only provides tech support to licensed installers. In other words, if your alarm system starts to act up, prepare to dig into your pockets again to pay an alarm technician. Kind of defeats the whole DIY route, right?
Moving Forward, But At What Cost?
Not selling directly to consumers doesn't just up Honeywell's prices – it changes the focus of their company. If you look at this blog post from last month, you'll see that Honeywell is hoping to invest more in developing products for "lifestyle enhancement" in the coming years. This gives dealers the opportunity to tack on more hidden fees, all for things you don't necessarily need.
The Bottom Line:
If you're considering self-installing a home security system. Then a Honeywell alarm is not likely the best option for you. There are many options out there, that are easier to use, lower cost, and offer all the bells and whistles you could ever need for your home.